SOSHI Educational Group
Soshi Gakuen High School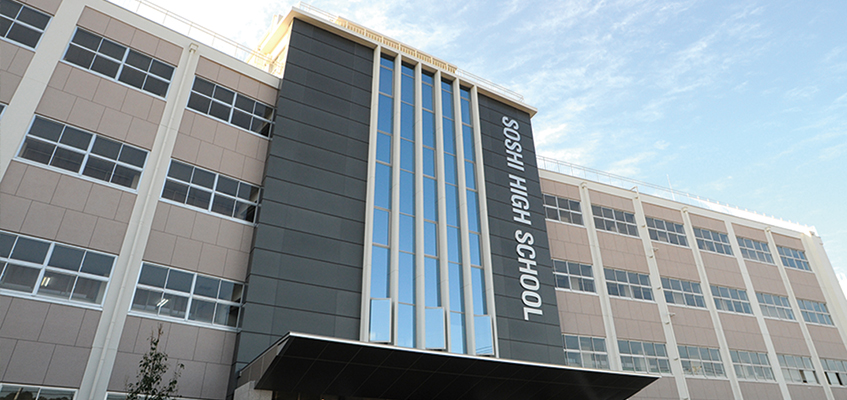 A place of learning that actualises dreams and ambitions
The school's name 'Soshi Gakuen' literally means in Japanese 'a place of learning that actualises dreams and ambitions'. In the Department of General Education, the university preparation course invites top-level lecturers to help students successfully prepare for university entrance examinations. The 'frontier' course offers students opportunities to study at affiliated tertiary institutes in Japan and overseas, and the physical education course develops athletes who compete at a national level. The Department of Nursing offers a five-year programme, where students prepare to sit the national nursing qualification examinations. At Soshi Gakuen High School, students and staff are working together as one, aiming to make the school 'the most vigorous' in Okayama, Japan.
Message
Yasuhiro Tanigawa


Principal



Offering new learning opportunities based on our perpetual educational philosophy
There are two kinds of education. One is something perpetual, remaining fixed in a changing society; and the other is something flexible, transforming to meet the changing needs of society. The perpetual philosophy of SOSHI Educational Group is 'Education as a Creative Challenge', which allows us to try new learning opportunities without hesitation. This is what we implement at Soshi Gakuen High School so our students can 'dream, challenge and achieve'.
Access
Location
7-38 Shimoifukunishimachi, Kita-ku, Okayama 700-0054 JAPAN
Phone
+81 (0)86 252 2101
Access
17 minutes on foot from East Exit, Okayama Station
3 minutes on foot from Bisenmikado Station, JR Kibi Line (3 minutes ride from Okayama Station)
Website
https://www.soshigakuen.ed.jp/